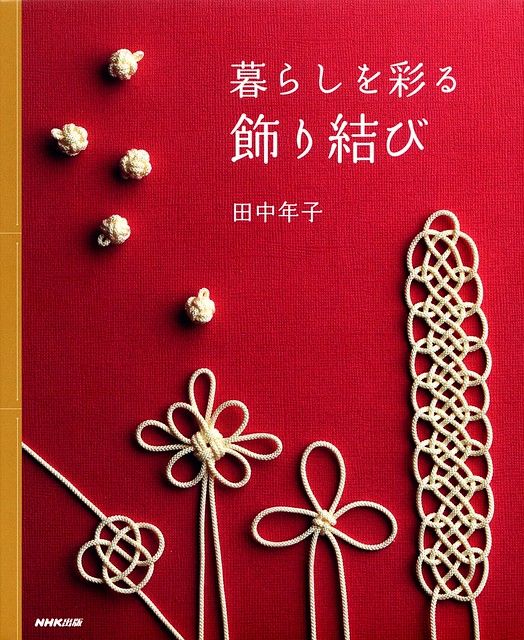 Examples of kazari musubi (ornamental knots) from the cover of the book 暮らしを彩る飾り結び.
A question came up on the SCA Japanese Facebook page regarding kazari musubi 飾り結び (ornamental knots). These were widely used in Japanese clothing and also for decorating and fastening scrolls. The knots were often made of kumihimo cords, so it ends up being a multi-phase process.
While I haven't found much in English about kazari musubi, there are two excellent books in print available in Japanese:
やさしい飾り結び (Yasashii kazari musubi) "Simple Ornamental Knots" by Hashida Shoen (1983) ISBN 978-4-14-031025-0 .
暮らしを彩る飾り結び (Kurashi o irodoru kazarimusubi) "Decorating with Ornamental Knots" by Tanaka Toshiko (2012) ISBN # 978-4-14-031187-5.
Another way to approach the subject is by looking at Chinese ornamental knots. They are similar but not exactly alike, as they tend to be more complex than the common Japanese designs. Still, the techniques used are the same, and because macrame was such a popular pasttime here in America during the 1970's, there was a market for books on this subject and so there are several books available in English.
I have found Lydia Chen's work to be very accessible. She explains the process thoroughly, with a lot of pictures, and has several books out on the subject. Here is a list of her books on Goodreads. I would recommend starting with Chinese Knotting: Creative Designs that are Easy and Fun! and her The Complete Book of Chinese Knotting: A Compendium of Techniques and Variations . The Fashion accessory book is fun but not practical for what we do in the SCA.
There's a wonderful site called Knotty Notions by Carol Leon-Yun Wang which has some very useful links. Her webpage on Chinese knotting has some instructions for basic knots, too, as well as an excellent bibliography, although maybe not completely up to date at this point.
Of course, this subject ties into kumihimo/kate-uchi, that creates the cords from which these knots are made. I'm just getting my toes wet on this subject, so will report back more as I dig deeper. Still, this is plenty to get a person started and keep them busy for a long time!